For serious equestrians, riding horses is more than a casual sport or leisurely pastime. Riding is an art and a passion. Like other pursuits of this nature, horseback riding is not something you learn to do well in a few months—or even a few years.  Leading to an important question for parents - what's the best age to start horseback riding lessons?
Ask any accomplished rider and they'll tell you how much they're still learning. Olympic level riders take lessons and are coached constantly. Good riders read books, articles, get regular instruction and attend clinics continuously. To excel at riding, you need competent eyes on the ground and a trusted instructor. As a long-time professional, I still take riding lessons and attend clinics as much as possible. Expanding our skills both in the saddle and on the ground with our horses brings us a stronger bond with them and helps us improve our fitness and body awareness as an added bonus.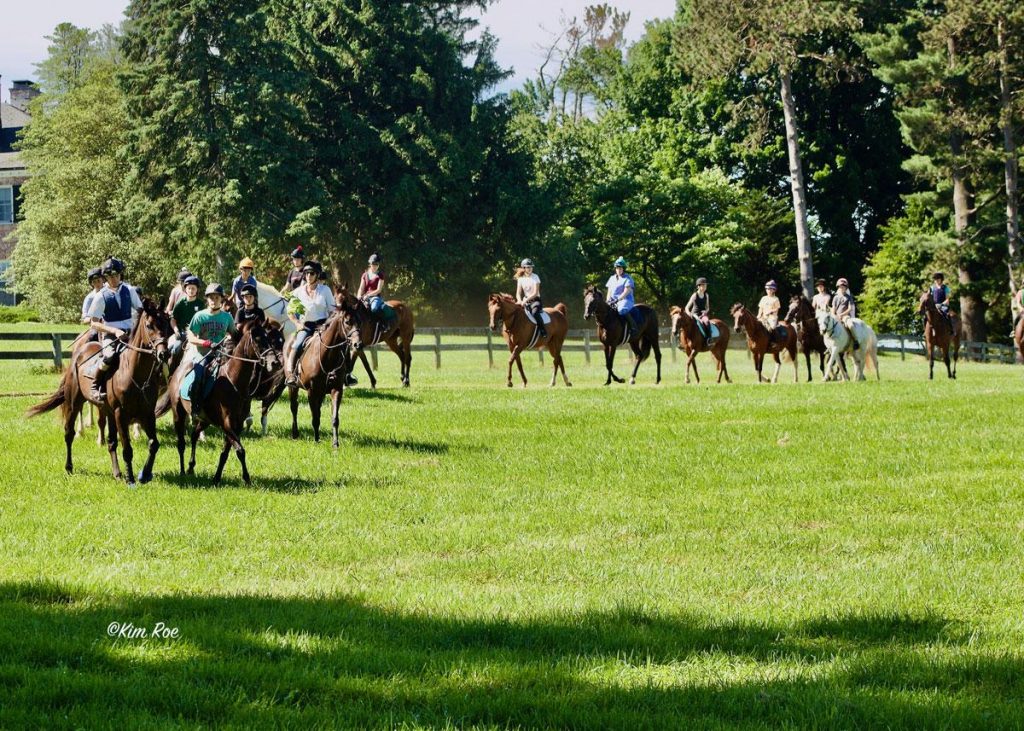 When Should Children Begin Lessons?
If you have a horse-crazy child who is begging for riding lessons, how do you know if your child is ready to start taking riding lessons?
First, ask yourself if your child is able to concentrate on a task and instruction for at least 30 minutes. If they're unable to focus for this long you should probably wait until they're a little older and more mature or your money won't be well-spent.
Secondly, most horses need the humans around them to have a certain amount of control over their emotions. Screaming, running, or yelling can cause a dangerous reaction in all but the most stoic of horses. Children who are unable to keep from melting down or who could throw tantrums are not ready for formal lessons.
Regardless of whether your child is ready to take a lesson, parents should start by taking their child to visit a barn that caters to children. Not all riding instructors accept youth riders, nor do they have school horses that are suitable for beginners of any age. Once you find a place that offer lessons to children, go meet the instructor and the horses and see how your child reacts to these large animals and the pressure of an unknown adult giving them directions. Very small children, or those not yet ready for lessons, can still benefit from time around horses.  Look for programs that offer summer camps as many of them have reliable horses and affordable, group instruction for all ages of children.  Even a few minutes a week getting to watch horses and other children riding will be helpful to small children.
Many instructors/riding schools set an age limit that is somewhat arbitrary and dependent on their comfort level and on the horses they have in their school. It's commonly around 9-years-old. Other instructors will be willing to work with children as young as 6 or 7 and see how the child does before making a decision to take that child on as a student.
Initial riding lessons will begin with the basics of grooming, cleaning feet, saddling and bridling and usually progress to leading the child on the pony or horse and before lessons on the longe line until the student is coordinated and strong enough to control the pony on his or her own.
Look for an instructor with years of experience starting children on horseback and a clean, safe, facility where the horses are happy and well-cared for. Get references from veterinarians, farriers, horse-owning friends, and most importantly other parents in order to find a good program.
Pony Club and 4-H are wonderful programs for children. These organizations offer inexpensive, high-quality instruction in riding and horse care with the added benefit of giving children fun social activities with other children such as fairs and rallies. But, to be involved in these clubs, children need to own or lease their own horse.  4-H horse programs are open to children in grades 3 to 12. Learn more about 4-H at 4-h.org/parents/curriculum/horse/.
Pony Club doesn't have a minimum age but rarely would a child under 6 years be able to take part in their activities. For more information on United States Pony Club go to www.ponyclub.org
There are great benefits kids get from working with horses:
Fun Companionship
Great Exercise
Lower Stress Levels
Builds Character & Confidence
Leadership Skills
When is it too Late?
Are you an adult who's always dreamed of riding but never had the opportunity to learn? Is it too late? No! You may need to spend some time searching for the perfect instructor, but there's a horse and a program out there for you regardless of your age.
In conclusion, age has little to do with deciding who can take up riding lessons. There are horses suitable for both the very young, the very old, and everyone in-between. What's important is finding a qualified instructor and stable suitable to your child or yourself. You are on the right track if you're looking for lessons first, before buying a horse.  It's absolutely essential that you have some knowledge of horse care and experience both on the ground and in the saddle before you bring a horse or pony home for the first time.